The mission of the Classroom Technology Support team is to standardize, support, and maintain all university classrooms according to the SMART classroom standards for classroom technology. Currently, there are 369 technology-equipped classrooms on campus. This includes 251 completely digital classrooms, with the rest being a mix of digital and analog equipment.
Each classroom is also equipped with an intercom system for immediate assistance when faculty need technology help from the classroom support team. Intercom support is available from 7:00 a.m. to 5:00 p.m. Monday through Friday.
Standard Equipment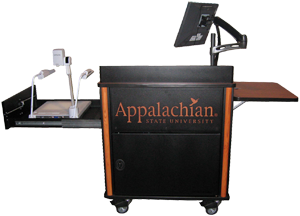 Our standard classroom equipment includes:
A multimedia data projector
Electric screen
Podium consisting of:

Computer (PC or Mac)
Bluray or DVD player
Document camera (not included in all podiums)
Extron Switcher
Ceiling or wall mounted speakers.
We are currently transitioning to the ALL DIGITAL classroom solution including digital laptop inputs as well as retro-fitting the existing ANALOG rooms as budget permits.
In addition to these standard classrooms., we're working with The Center for Academic Excellence on developing new Active Learning Classrooms. These are currently located in Anne Belk Hall, the Reich College of Education, and Leon Levine Hall, with more being planned each year.